Student Organization Wins Award!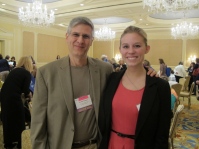 Students at Northern Michigan University joined MSHA in greater numbers - relative to how many students are in each schools' program - than any other university in the state, according to Gordon Krainen, Ph.D., CCC-SLP, MSHA VP for Membership.  Thus, NMU received the 2013 M & M Award (Most Student MSHA Members) at the MSHA Awards Banquet in Dearborn.  Arica Altobello received this award on behalf of her fellow NMU Student MSHA members.  She is pictured above, with Gordon Krainen.  Congratulations!
News and Information





 






 

 

Kelsey Johnson Named Outstanding Student Practitioner

Kelsey was selected for the Outstanding Student Practitioner Award for her exemplary professionalism while on her clinical internship at Aspirus Keweenaw Hospital in Laurium, MI.  Kelsey is continuing her education and will complete the BS degree in Laboratory Medicine in December 2013. 
 




Lucas Lanczy Named Outstanding Associate Degree Graduate
Lucas was selected for the award for his academic achievements and exemplary standard of professionalism during his clinical practicum at Baraga County Memorial Hospital.  Lucas is currently employed at BCMH and active in the National Guard.

 

 


Megan Forrest named Outstanding Graduating Senior
Megan Forrest graduated summa cum laude with a B.S. degree in Clinical Laboratory Science, Diagnostic Genetics concentration.  Megan completed a senior internship in Molecular Genetics Technology through the Mayo School of Health Sciences.  Ms. Forrest was engaged in significant activities at NMU including the Student Leader Fellowship Program, President of Clinical Laboratory Science Club and  Community Service Internship at the Upper Peninsula Health Education Corporation.  Megan has been the recipient of numerous awards throughout her academic career.  Most notably are the 2011-12 Siemens-American Society for Clinical Pathology Scholarship, Bronze Quality Certification by Mayo Quality Academy, Heart and Soul Award for Outstanding Student Service through Michigan Campus Compact, NMU Merit Award, Kaye Scholarship, and R.J. Reynolds Scholarship from the National Merit Scholarship Corporation.