The Lazarus Project by Aleksandar Hemon is the 2011 selection for Marquette County's One Book, One Community program. Hemon creates a work of historical fiction born from an event long shrouded in mystery: the 1908 shooting of 19-year-old Lazarus Averbuch, a Jewish immigrant from Eastern Europe, by the chief of Chicago Police. The novel seamlessly weaves together Averbuch's story with that of Vladimir Brik, the 21st century fictional hero who is a Bosnian-American writer in Chicago.
Brik secures a grant to work on a book about Averbuch and becomes obsessed with what happened to him and why. His research takes him and quick-witted photographer Rora, whose photos accompany the story throughout the novel, on a crazy trip through Eastern Europe. Their tour ends up being more a journey into their own pasts than a fact-finding mission. Olga Averbuch, Lazarus' sister, shares the narrative duties as she is hunted by the police and the press. Hemon's novel is bookended by murders. It showcases his wit and writing ability in a story about how discovering our past can tell us about our true selves.
Hemon was stranded in the United States in 1992 after war broke out in his native Sarajevo. He has adopted Chicago as his new home. He completed his first short story within three years of learning to write in English. His work has appeared in The New Yorker, Esquire,The Paris Review and in two acclaimed books, The Quest for Bruno and Nowhere Man.

Check back in News and Events section to see the dates for the author visit, book discussions and other special events surrounding this book. Plus, check out Marquette County's One Book One Community on Facebook!
The Lazarus Project

By Aleksandar Hemon
The Lazarus Project is Aleksandar Hemon's most ambitious and imaginative novel yet. The story follows Brik, a modern day journalist, who is on a quest to uncover the truth about the 1908 shooting of Lazarus, a young Jewish immigrant, by the Chicago Chief of police.  Brik and his witty photographer Rora travel to Eastern Europe in hopes of uncovering the history behind the murdered boy.  Sharing the narrative role is Lazarus' sister in 1908 as she evades the media and the police.  The novel masterfully unites the past and the present to create a clean and cohesive work of historical fiction.
Read the first chapter free here. (right side of page)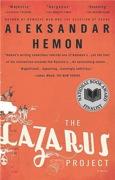 Synopsis:
    As fears of the anarchist movement roil 1908 Chicago, the chief of police guns down Lazarus Averbuch, an eastern European immigrant Jew who showed up at the chief's doorstep to deliver a note. Almost a century later, Bosnian-American writer Vladimir Brik secures a coveted grant and begins working on a book about Lazarus; his research takes him and fellow Bosnian Rora, a fast-talking photographer whose photos appear throughout the novel, on a twisted tour of eastern Europe (there are brothel-hotels, bouts of violence, gallons of coffee and many fabulist stories from Rora) that ends up being more a journey into their own pasts than a fact-finding mission.
    Sharing equal narrative duty is the story of Olga Averbuch, Lazarus's sister, who, hounded by the police and the press (the Tribune reporter is especially vile), is faced with another shock: the disappearance of her brother's body from his potter's grave. (His name, after all, was Lazarus.) Hemon's workmanlike prose underscores his piercing wit, and between the murders that bookend the novel, there's pathos and outrage enough to chip away at even the hardest of hearts.
About the Author
Aleksandar Hemon is the author of The Lazarus Project, which was a finalist for the 2008 National Book Award and National Book Critics Circle Award, and three collections of short stories: The Question of Bruno; Nowhere Man, which was also a finalist for the National Book Critics Circle Award; and Love and Obstacles, which will be published by Riverhead Books on May 14, 2009.  Born in Sarajevo, Hemon visited Chicago in 1992, intending to stay for a matter of months. While he was there, Sarajevo came under siege, and he was unable to return home. Hemon wrote his first story in English in 1995. He was awarded a Guggenheim Fellowship in 2003 and a "genius grant" from the MacArthur Foundation in 2004.  He lives in Chicago with his wife and daughter.
Please visit the author's Web site for further information:
http://www.aleksandarhemon.com/
Events about The Lazarus Project
October
October 4, 7 p.m. - Peter White Public Library's Dandelion Cottage Room.
A public book discussion of The Lazarus Project.
October 10, 7 p.m. - Peter White Public Library's Community Room.
Public lecture/discussion on the Balkans by Chet DeFonso, NMU history department head.
October 11, 7 p.m. - Peter White Public Library's Community Room.
The film "Witnesses" (Serb/Croatian, 2003, 88 min), introduced by Robbie Goodrich, NMU history professor. Robbie will lead a discussion of the film afterward.
November
November 9, 7:30 p.m. Snowbound Books, Marquette
Public book discussion.
November 15, 7 p.m. NMU University Center.
Author Aleksandar Hemon will be presenting.
November. 17, 7:30 p.m. NMU Reynolds Recital Hall
An evening of art, music, dance, literature and drama related to The Lazarus Project.
November 21, 5 p.m., Dead River Coffee, Marquette
Public book discussion.