Meet Monique
---
Major and year of graduation: English; 2005 (Minors: Biology, Writing, German)
---
1. Tell us a little about yourself. Where are you from? When and what brought you to Northern Michigan University? What did you study (major/minor)? What languages, etc.
My name is Monique Yoder, and I am from Michigan.  I started my Bachelor's degree at NMU in the fall of 2000 right after I completed high school.  What brought me to NMU at the time was its distance from southwest Michigan.  For me, it was important to go far away from home for my college studies – to be in an environment completely different than what I had known.  Since NMU was far from home, but still in-state and affordable, I chose to study in Marquette, MI.  Of course, Marquette's natural landscape was also a huge motivation for studying at NMU. 
Initially, I was a Biochemistry major, but I changed my major to English Graduate Prep after 5 semesters in the program.  I had missed writing and humanities studies, so I opted to pursue a degree in English literature.  In the end, by doing summer studies for four consecutive summers, I finished my undergraduate studies with a BA in English and minors in Biology, Writing, and German.
2. What are you doing now? Where are you? Where are you working?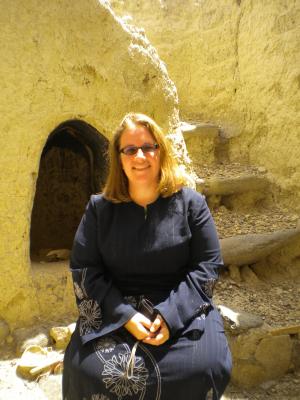 Right now, I'm a Senior Language Instructor at the English Language Centre at Sultan Qaboos University in the Sultanate of Oman.  I teach foundational English to freshmen university students whose English is not proficient enough coming from their secondary education backgrounds to competently cope with the level of English demanded of them in their major studies.  The language medium of instruction at SQU is English.  This is my second year at SQU.  I live in Muscat, the capital. 
3. Has your second language benefited your career? If so, how has it helped?
Having German as a second language has greatly benefited my career in that it gave me my foothold in the TESOL (Teaching English to Speakers of Other Languages) field.  Immediately after graduating from NMU, my plan was to start the MA TESOL degree at Michigan State University.  However, through the encouragement of Carol Strauss Sotiropolous, I applied for a Fulbright Foreign Language Assistant position with the Austrian-American Fulbright Commission.  Through a series of events, a position became available, and I was able to defer my graduate studies enrollment to live and teach in eastern Austria for 10 months.  A requisite for the position was to have a working knowledge of German, which I had achieved from 2 years of study at NMU and a summer study abroad in Vienna, Austria in 2005.
4. Does your second language come into play outside from work? 
Although I am no longer living in a German-speaking work and living environment, I am able to use my German here in Oman since there are a number of professors at the university who hail from Germany.  As Germans are known for being keen travelers, many of the prominent tourist destinations here in Oman have museum and direction information in German.  If the English translation from Arabic is poor, I opt for the German translation.   
5. Is this where you imagined yourself after ending up after Northern? 
Absolutely not.  After finishing my MA TESOL degree, it was my intent to return to Europe to teach English as a foreign or second language.  I was offered a job in Klaipeda, Lithuania to do a year of service teaching with LCC International University.  In an effort to not be crippled by my graduate school debt and to seize the opportunity to explore the Middle East first-hand, I opted to teach at Prince Mohammed bin Fahd University in Al Khobar, Saudi Arabia (2008-2010).  I was, however, able to service teach with LCC International University's Summer Language Institute for two summers in 2008 and this past year. 
Now, in my fourth year living in the Arabian Gulf, I'm continuing to learn more about Omani culture.  To fully understand both the tribal and religious elements of the culture, an understanding of the Arabic language is necessary.  Although Arabic has proved to be more difficult for me to learn than German, I enjoy the challenge of the right-to-left script and relying on few cognates.    
6. What is a favorite memory you have from your language studying days at Northern? 
My favorite memory that I have from my language study days at Northern is actually a collection of memories of playing language games and speaking informally at the weekly Stammtisch meetings at, what was then, the Panini Grill.  Now I think it's Jimmy John's sandwich shop, but don't quote me on that.
7. Tell us more about your experiences brought into life by the Fulbright scholarship.
While I did not fully understand or appreciate my purpose as a Fulbright foreign language assistant at the time, I have now come to understand the value of having average American citizens sent as individuals to foreign countries to be ambassadors for our culture and representatives of our higher education system.  At the time that I was doing my assistantship, the year was 2005, and there was a lot of anti-American sentiment on the part of the Central Europeans that I met and interacted with.  However, as an individual working and living with them in their personal spheres, I was able to demonstrate to them through my character and work that not all Americans fit into the stereotype that has been shaped for them over the years.  Through my experience in Austria, I was able to take the importance of that lesson and apply it to my work in Lithuania, Saudi Arabia, and Oman.  In addition to teaching students third-person singular 's' and word order, my students and I mutually break down the cultural and foreign policy barriers that often separate us. 
8. Did you study abroad while finishing up your degree from NMU? Tell us more about it.
I did the one-month study abroad in Vienna with Robert Goodrich and Carol Sotiropolous in May of 2005.  Initially, I wasn't going to do the study abroad, but Carol encouraged me to do it, citing that in doing so, I'd not only be able to experience German in context, but also earn enough credits to complete a German minor.  While in Vienna, I was aided by a very accommodating professor at Universitaet Wien who helped me get copies of materials on the Wiener Kreis (The Vienna Circle), a group of philosophers and intellectuals at the turn of the 20th-century.  My research purpose that summer was to explore the question, "Why does Vienna think the way that it does?"  -- a complementary research project to another fellow NMU student at the time who was researching why Vienna looks the way it does. 
Aside from the linguistic benefits of studying in Vienna, it was my first opportunity to experience my research interests in context of their real-life settings.  After doing this research, I developed enough confidence to then travel independently to other places to apply the same strategies to further exploring other research interests of mine, namely going to Dublin, Ireland to research the life of James Joyce and his works.  
9. Do you think studying abroad an eye-opening experience? What would you say to current NMU students?
Studying abroad is definitely an eye-opening experience.  Living in a different culture and geographical location is very disorienting.  Through this disorientation, though, great understanding, patience, and an appreciation for how other cultures, as well as our own, do things is born.  I would recommend that if current NMU students have the time, resources, and drive to submerge themselves in a foreign environment, that they go for it.  As the job market becomes increasingly global and hypercompetitive, learning how to work and cope with people from different cultures is a valuable skill to have.  As Ludwig Wittgenstein observed, "The limits of my language mean the limits of my world."
10. What suggestions/advice do you have for beginning students in terms of studying the language?
My recommendation for beginning students learning German is to find either a German-speaking soap opera or television series of interest to help with listening and pragmatics (culturally accepted language use) comprehension.  Let's face it, the only way to improve learning a language, like any other skill, is to practice as much as possible.  The more exposure you can give yourself to the language, the better.  Even if it is watching a YouTube clip for 20 minutes a day, it's still language input that, over time, will become a part of your working language framework. 
11. What are your other interests besides teaching? How you spend your spare time?
In addition to teaching, I enjoy reading, writing, traveling, swimming, walking, and hiking.  In my spare time on the weekends, I visit families of my students in different villages (some pretty remote) around the Sultanate.  Since 2008, I have kept a blog to try to capture the poignant, quirky, and comedic moments that I've encountered through varies cross- and inter-cultural experiences living and traveling abroad.  Here is the link to my blog for the ones who are interested: http://moniqueyoder.blogspot.com/. 
12. Do you have a favorite quote to share with NMU students? 
"One never reaches home, but where friendly paths intersect, the whole world looks like home for a time." ~ Hermann Hesse
13. Anything else you want to add?
As much as you can, take advantage of the extra-curricular activities that NMU offers, whether it is a sports club, language club, or academic club.  All of these opportunities offer the chance to interact and communicate with others that are different and similar to us – a skill that is also helpful in communicating in a second language.