Meet 
Jameson

---
Major and year of graduation: Social Studies Secondary Education; 2009 (Minor: German)
---
1.  Tell us a little about yourself. Where are you from? When and what brought you to Northern Michigan University? What did you study (major/minor)? What languages, etc.
I originally come from and grew up in Dearborn, Michigan and chose Northern for its beautiful environment and friendly people.  I also always wanted to teach and liked the individuality and personal touch that NMU's Department of Education offered.  I decided to study Secondary Education Social Studies with a minor in History education but after two study abroad trips to Vienna and Berlin, I decided to minor in German because of my deep interest in German culture.
2.  What are you doing now? Where are you? Where are you working?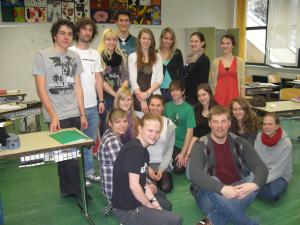 Currently I am teaching German at Prairie Ridge High School in Crystal Lake, Illinois and absolutely loving it.
3.  Has your second language benefited your career? If so, how has it helped?
My second language has opened so many doors for me.  Not only did it grant me access to an amazing 2-year Fulbright Scholarship in Austria, the language that I studied at NMU has become my passion and livelihood.  Every day I have the opportunity to encourage a new generation of students to find new connections through the German language and culture.  Funny job-hunt anecdote, when applying across the country for teaching jobs, 9 out of every 10 callbacks for interviews were solely foreign language positions.  Only two school districts called for Social Studies and History. 
4.  Does your second language come into play outside from work?
Now that I am established in my community and people know me as a German teacher, I have become approached by many native German speakers, those who have studied German, and German companies in the area.  There's a lot of German culture here in Northern Illinois and a lot of German History here to so there are countless opportunities to use my language skills.
5.  Is this where you imagined yourself after ending up after Northern?
Not at all.  I knew that I wanted to teach but I never dreamed that I would actually teach German.  It was my great experiences on Study Abroad, as well as the friendly NMU German community that really fostered my interest in the German language and pushed me to proficiency.  I am still improving my craft as a foreign language teacher, but I am having a great time while working with amazing students.
6.  What is a favorite memory you have from your language studying days at Northern?
One of my favorite memories was outside of the classroom when our German Stammtisch group would meet for a Nikolausfeier in the Whitman Commons.  German Students, community members, Frau Dr. Strauss, and Herr Ahlers would all meet for a really nice arrangement of cookies, punches, ciders, and of course Nikolaus would bring us gifts.  It was goofy singing "Lass uns Froh und Munter sein" with Frau Dr. Strauss, but it's a great memory that I have and it was special for us all to meet together and celebrate German culture.
7.  Tell us more about your experiences brought into life by the Fulbright scholarship.
My time in Austria was absolutely amazing.  I spent two school years working at five different schools Eastern Styria teaching Austrian students everything from baseball to the US Constitution.  I worked directly with the Austrian students and teachers and I conducted supplementary classes within the Federal curriculum.  I even chaperoned three week-long, student field trips to Croatia and Alpine ski trips.  The students and teachers that I worked with were wonderful and I learned so much from them.
Outside of school I tried to engage in as many cultural activities as possible such as celebrating Christmas in a small Styrian village, snowboarding in the Alps, biking to nearby castles, and singing in local choirs.  These experiences were some of the most spontaneous, unplanned events but they taught me more about Austrian culture than any book or video ever could.
 I am happy that many of my Austrian students and colleagues are still good friends and we correspond.  Currently I am working to organize a student exchange with a few of my Austrian colleagues.  I hope to offer my students the opportunity to visit this wonderful place and learn as much as they can.
8.  Did you study abroad while finishing up your degree from NMU? Tell us more about it…
I studied abroad twice and I look back upon these experiences as the true ignitions to my foreign language study.  I spent a great semester in 2006 with AHA in Vienna, Austria
which focused upon Language, Culture, Art, Music, and History.  I couldn't believe that we could learn about the Habsburgs in class and then walk outside to see the palaces in which they lived or the actual crowns that they wore. 
My second study abroad experience was an 8week intensive language course with the Goethe Institut in Berlin.  I knew at that point that I was serious about language acquisition and this trip was great.  Berlin is a great city for young people, with no end of things to do.  I was there from May to July and couldn't have had more fun.  Both of these trips were homestays, which really helped my language acquisition and connection to the culture.
9.  Do you think studying abroad an eye-opening experience? What would you say to current NMU students?
Every student should study abroad and I encourage all of my current students to get out of their comfort zones to see the world.  America is a great place but you can't truly appreciate it or criticize it until you see what things are like elsewhere.  My experiences on study abroad undoubtedly changed me for the better and I learned from my triumphs and failures.
One extra bit of advice that I would give is to really engage the language of the country you visit.  So many of my colleagues on study abroad became stuck because their abilities and interests in the language were so weak.  They never engaged the culture by confining themselves with other Americans or people who would only speak English with them.  Language is the key to culture and if you don't engage the language, you can never really access or understand the culture you are studying.  Do whatever you have to do to seek out opportunities to have fun and make mistakes with the language.  It'll pay off.
10.  What suggestions/advice do you have for beginning students in terms of studying the language?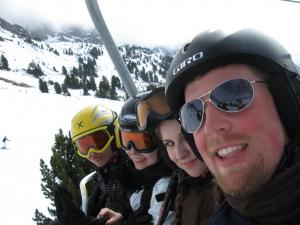 Stick with it and study abroad.  Languages are tough to learn.  They're difficult to get the hang of and their constantly changing.  The best way to learn a language, however, is to spark yourself through study abroad.  I never knew how much I'd like German until I went to Austria and spent a semester.  Then I knew that I had to stick with it and it has taken me to some amazing places.
11.  What are your other interests besides teaching/How you spend your spare time?
I love the outdoors so anything outside is fun for me.  Walking my new puppy and getting out to go biking or snowboarding are always great.  When the weather is bad, I try to read and keep myself connected with friends all over the world through social media.
12.  Do you have a favorite quote to share with NMU students?
"If you set out to take Vienna, Take Vienna!!!"  Napoleon Bonaparte said this and it has stuck with me for years before I studied in Vienna and long after.  Determination and hard work will take you where you want to go, even if the destination that you end up at is not the one initially set out to attain.
13.  Anything else you want to add……
Go Cats!!!