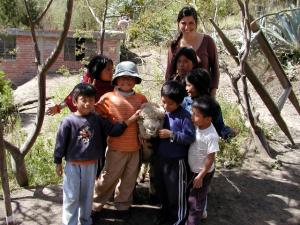 ---
Majors and year of graduation: English; 1999 (Minor: Spanish)
---
Welcome to our new faculty Mary Antonia Andronis.  Mary was born (and lived her earliest years) in Chicago, before moving to Marquette at age 12.  She received her Bachelor's degree from NMU, with a major in English and a minor in Spanish. 
With the help of the International Programs and Financial Aide Offices at NMU, Mary spent her last semester of college in a study abroad program in Spain.  It was an experience she describes as having been life-changing.  For this reason, she continues to be a big proponent of study abroad and language immersion programs, and says that "Every student should study abroad for some time; it may spark an interest you never even knew you had, and take you in an entirely different direction".  If Mary hadn't studied Spanish in college and spent half a year in Spain, she may not have gotten into the field of linguistics to do the research and teaching that she loves today.
Mary holds an M.A. in Anthropological Linguistics and is ABD in Linguistics from the University of Chicago.  Since 2001, her research has been focused primarily on Quichua, one of the indigenous languages spoken in Ecuador.  Her Master's thesis examined the mixing of Quichua and Spanish in various communities in Ecuador, and her doctoral dissertation addresses issues of Quichua language standardization, dialectal differences, and language shift in a small indigenous community in Central Ecuador.  Over the years, Mary has conducted fieldwork in Amazonian Ecuador, as well as in the Andean highlands, although says that she prefers the highlands.  ("There are not so many snakes there as in the Amazon.")  After receiving the Fulbright-Hays grant for Ecuador, she lived in the highlands for two full years.  Throughout the course of her research in Ecuador, Mary has worked closely with indigenous not-for-profit foundations.  Some of her past projects with these foundations include: building a locally-run Quichua language radio station, helping to run the growing charter school in the community and develop its volunteer program, establishing and planting organic community gardens, and also more generally working to promote indigenous education and language revitalization projects.
Mary teaches SN 101 Elementary Spanish and hopes to also teach SN 314 Latin American Culture next semester. When she isn't teaching, Mary also works as a linguistic consultant for a translation software company. Her hobbies include playing the guitar, knitting, and tending to a growing collection of orchids. Her suggestion for beginning Spanish students is to immerse themselves in the language as much as possible; through movies, music, TV shows, and of course travel, if possible.  Her favorite quote about language is: "La lengua nos hace y en ella nos hacemos."  (Language makes us, and in language we make ourselves.) –Manuel Alvar