Meet Jessica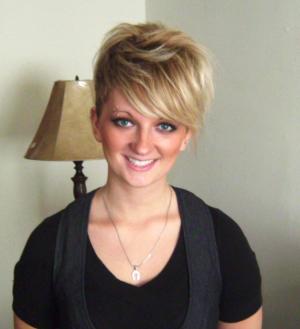 ---
Majors and year of graduation: Spanish, English; 2010 (Minor: German)
---
Jessica Parker is originally from Gladstone, MI and chose Northern Michigan University for its small class size and the beauty of the city of Marquette. During her time at Northern from 2007 to 2010, her major was Spanish and English and she also had a minor in German.
Currently Jessica is in a Master's degree program in Spanish Literature at UW-Madison.  She is a full time graduate student while teaching a Spanish 101 class at the university as part of her teaching assistantship. Jessica's experience at UW-Madison is great so far. She reports that the professors are friendly and helpful and the classes are very interesting. She also says that it's a rigorous program but she is learning a lot. Jessica finds that she uses Spanish all the time, inside and outside of the university. She speaks with people on the bus using Spanish and often with some families that live in her apartment building. It is a very commonly spoken language in her area.
Jessica has fond memories about her study abroad for three weeks in Guanajuato, Mexico with NMU Professor Michael Joy in summer 2009. She got to know the town, to visit museums like the mummy museum and one of Diego Rivera's houses. It was her first time on an airplane and first experience outside the U.S.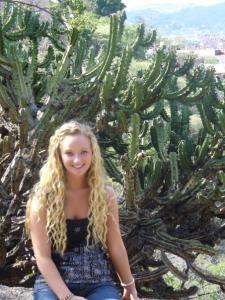 Jessica encourages NMU students to study abroad. She says, "I think that it is absolutely necessary to go abroad at least once during undergraduate studies. I know it's hard to find the money and time to go but even if you can make it for a few weeks it will be an unforgettable time in your life…….I am not one who would want to study abroad for a whole semester so I would recommend to anyone else who feels that way that they find a 4-6 week program in the summer and do that."
Asked about the suggestions for beginning students learning Spanish, Jessica says, "I found Spanish to be a very easy language to learn and the most rewarding thing about language learning is that you see the results of your studying so quickly. It's a visible process. Each week you are able to say more, read more and understand more of the language. It can be frustrating in the beginning when you have so much to say in your Spanish class before you can say it but you only need a little patience. It gets much better fast!"
Outside of studying and teaching Spanish Jessica is interested in English literature, translation, and music. She writes fiction and poetry in English and hopes to incorporate creative writing into her graduate studies. She also writes and records her own music in rare moments of free time. Translation has always been interesting to her and she is enrolled in a Poetry translation course this semester at UM-Madison. "I hope to work more with translating contemporary poetry, fiction and literature without genre from Spanish to English. What interests me most is what is being written right now; the things which no one has translated or critiqued or analyzed. I want to wade deep in the uncharted territory of the very contemporary literary world.