RUSSIAN FOOD NETWORK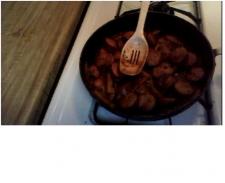 Recipe: Sosiski Sous-Tomat (Cocktail Sausages in Tomato Sauce). This recipe has a strong tomato taste but, I need to stress that it does not taste Italian. The spices and procedure of the dish are inherently Russian and do not reflect those of a spaghetti dish at all.
This recipe is, according to a Russian friend of mine 'Poor Man's Russian'. The reason the recipe requires vodka is because this is a somewhat 'dated' dish. There was no refrigeration when this concept was conceived. Therefore, the vodka acts as a preservative. I made a brief youtube video of the finished product.
 http://www.youtube.com/watch?v=0KsgU_vo8MA&feature=channel_video_title
I like to cook already so this wasn't anything new for me. However, I was a stranger to the way the spices come together. The taste was truly magnificent. I was absolutely pleased with the results. I made no significant substitutions to the recipe. This is unlike anything I have ever tasted given the unique creation. I would definitely serve this dish to company. I recommend a red wine with this dish. Try something in a Cabernet Sauvignon.
If you're a reader, you can also take in a book by Alexander Pushkin, Eugene Onegin. Eugene Onegin is a story of the trials and tribulations of young youth and bored aristocrats in the 1820's. It gives the reader a strong sense of Russian society and is from start to finish a good read. 
Here is the full recipe:
½ pound cocktail sausages
1 small onion, chopped
2 tablespoons butter
½ cup tomato puree
¼ cup beef stock
¼ teaspoon salt
Freshly ground black pepper to taste and a dash of cayenne pepper.
2 tablespoons vodka
1 tablespoon parsley, chopped 
Fry the onion in butter until soft but not brown. Add the sausages and fry them until browned on all sides. Then transfer the sausages to a chafing dish to keep them warm, leaving the onions and butter in the pan. Stir in tomato puree into onions and butter. Add the beef stock, salt, black pepper and cayenne pepper. Then stir in the vodka. Return the sausages to the pan and heat gently for fifteen minutes. Serve from a chafing dish and garnish with parsley. Makes four servings.