THE RUSSIAN FOOD NETWORK
Project form
Recipe: Souffléed Baked Apples (Yabloki so Smetanoi)
2 pounds tart apples, peeled, covered and sliced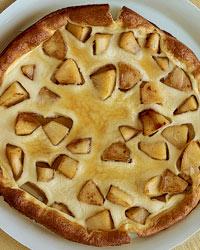 4 eggs, separated
2 cups cold water
¼ teaspoon almond extract
2 tablespoons freshly squeezed lemon juice
¼ teaspoon ground cardamom
½ cups seedless raspberry jam
1 tablespoon flour
1 ½ cups sour cream
½ cup sugar
2 tablespoons sugar
In a saucepan combine the water and lemon juice. As each apple is peeled, cored, and sliced, drop the slices into the water. Then bring the water to a boil and simmer the apples for 3 to 5 minutes, until tender. Drain.
Preheat the oven to 345* F., grease a 9X13-inch glass baking dish. Mix together the poached apples and the jam, coating each slice. Spread the apples in an even later in the dish.
In a small bowl combine the sour cream, egg yolks and flavorings. Stir in the flour and the ½ cup of sugar.
Beat the egg whites until stiff but not dry and gently fold them into the sour cream mixture. Spread over the apples. Sprinkle with the 2 tablespoons of sugar. Bake the apples for about 30 minutes, or until puffed and golden. Let the dessert stand for 10 minutes before serving so that it can be cut easily into squares. 4-6 servings.
When trying to research sufleed baked apples, unfortunately I really couldn't find much. I even searched the Russian spelling but all that came up was all in Russian, and things I couldn't understand.
When I cooked the souffléed baked apples, I wasn't sure what to expect. Reading over the recipe it didn't seem too hard, although finding a few of the ingredients took me a while, since I've never made anything with ground cardamom, but I found that I like it a lot. But the rest of the ingredients were things most people have in their pantry or fridge anyway, except myself—so a shopping trip was mixed in to the recipe too.
After gathering all the things I need, except a glass baking dish, which I borrowed from a friend, everything seemed to go smoothly. Except one thing, I goofed up a little in the recipe, when I read it through the first time I understood, but when I began doing it step by step, I separated the eggs like I was supposed, except I put the egg yolks to the side, and put the egg whites in the mixing bowl. But as I kept reading, it said I to add the egg whites in anyway—just in a different way. But I figured it's all going to the same place, and I'm sure not getting some of this stuff again, so I just rolled with it. And like any good cook, I tried the sauce that went on top before it was put in the oven, and it tasted great! A lot of cooking experiences are made with mistakes, and you just have to take it one step at a time and roll with the punches.
The time limit said 30 minutes, but it took almost an hour, I think there was too much jam juice that was on the apples that got into the dish when I was putting the apples in it. But I still feel like it turned out well. I made my room mate, and my friend taste it along with myself, though I was a bit hesitant. I didn't take my first bite until I saw their faces after the first bite. And their faces seemed to be satisfied as far as I could tell.
It did remind me a little bit of my sisters home made apple pie—since I used sour cream and cardamom, which she used. But other than that, the taste all together was very different, because I put seedless raspberry jam. If I had to put something with it, well first I'd have some sort of pork meal, most likely with potatoes and corn, and then serve the apples for dessert—and alamode style as well. I think that a white Riesling would go really well with the souffléed apples, I think that with that touch of sweetness, and that bit of carbonation would satisfy that missing taste
Since it's a sweet dessert dish, I feel like a reading that would go along with the dish would either be A May Night or Drowned Maiden. I think that story would go along with it because it has a happy ending, and when I think happy, I think of sweeter foods.