THE RUSSIAN FOOD NETWORK
Project form
Please fill out the form below, print it, and turn it in, in hard copy, on the due date you selected on the signed up sheet.  The Russian Food Network Event as a follow up to your Russian cooking experience will take place on December 2 during class time, in the Whitman Commons.  Please duplicate your recipe and bring it in for the event.
Recipe:Noodle and Cheese Bake
(Lazanki s Tvorogom i Smetanoi — Russia)
(Lokshyna, Zapechena z Syrom — Ukraine)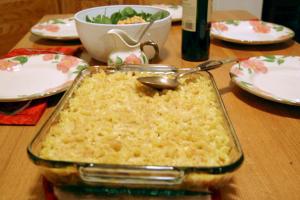 12 ounces fresh lasagna noodles
1 pound farmer cheese
1 cup dairy sour cream
4 egg yolks
½ tsp salt
1/4 teaspoon pepper
2 tsp butter or margarine
1/4 cup dry bread crumbs
1 tablespoon butter or margarine

Cut lasagna noodles into diamond shapes, about 1 inch wide. Cook noodles in 3 quarts boiling water until tender, about 3 minutes; drain.

Mix cheese, sour cream, egg yolks, salt and pepper in large bowl; gently stir in cooked noodles.

Heat oven to 375 degrees F. Grease 2-quart shallow casserole with 2 tablespoons butter; sprinkle with bread crumbs. Pour noodle mixture into casserole; dot with 1 tablespoon butter. Bake uncovered until hot, 25 to 30 minutes.

Yields 6 servings.
A synopsis of your research on the recipe and the area where the recipe originated:
I was told that this was a Ukraine recipe but the website I got it in said it was Russian I of course believe its Ukraine.
Your description of the experience of preparing and the tasting the recipe (any ingredients you needed to substitute, any changes you made to the recipe… does it remind you of something you tasted before?  What would you serve to accompany it? Etc.
Easy to prepare there was nothing to it. I used shredded farmers cheese instead of the one on the container. I also used regular noodles instead of lasagna noodles. That was a lot easier. It was kind of dry and bland..I would accompany it with what I wrote below.
Like a wine recommendation to accompany a dish, make a recommendation of a reading from Russian literature that would accompany the making or the tasting of the dish you prepared.  Perhaps the reading would suit the mood of the dish, its spiciness or its sweetness… perhaps there was a mention of one of the ingredients or the dish itself in the reading… etc.  You may select from the stories read or presented in class, or some other Russian work with which you are familiar.
I would choose the story "The Nose" by Gogol. On page 25 he said "I would like a bit of bread with onion." I think that would go great with this recipe and would add a good flavor to our taste buds and it would be a good compliment to this dish.