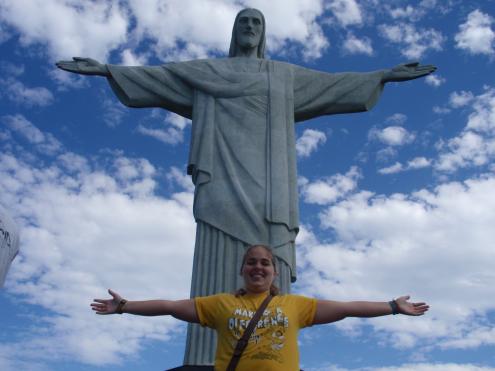 Megan Munyan is from Rochester Hills, Michigan and she came to study at NMU in August 2008. She is an honors student majoring in International Studies and Spanish. From January to December 2009, Megan took two semesters of Portuguese and an online course Sustainable Entrepreneurship at NMU, which were required for a study-abroad program with the Brazilian university Universidade Federal de Lavras (UFLA). Another Sustainable Entrepreneurship online course was also required.
Megan went to the city of Lavras in January 2010. Her study in Brazil started with an eight-week language immersion. Megan had to admit that the language study was necessary. Even though she had taken two semesters' Portuguese at NMU, she had a hard time understanding local people at the very beginning. Being in the Portuguese environment and her background of the Spanish language helped her greatly in picking up the Portuguese language. By the time Megan came back to NMU in August 2010, she was quite fluent in

 Portuguese. The extensive similarities between Spanish and Portuguese made Megan's study in Portuguese moderately easy. She had no problem with the two courses at UFLA: Management of Small Businesses and The Development and Management of Familiar Agriculture. Megan says, "It's a great program. I improved my Portuguese and studied in the Brazilian culture. Living in Lavras was cheaper than in the U.P. and the grant I got covered most of the expenses. I could also transfer the credits to NMU for my Bachelor's degree."

Megan lived with a host family during her study-abroad period. She says, "It was a wonderful experience to live with a host family. I got involved with the community very easily. On Sundays, I went to church with them. They were very welcoming, nice, and friendly people. It was also easy to make new friends and we went to the rodeo and concerts together. It was fun….. I had to communicate with them in Portuguese and I learned many words in the process." Megan is still in touch with her host brother and sister through Facebook.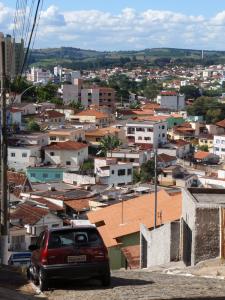 Megan is very fond of the Brazilian cuisine. The main foods are rice and beans. Meat, various vegetables: lettuce, tomato, carrots, and beets, are usually ingredients of Brazilian meals. Canjica was a new snack Megan tried, which was made from corn, peanuts, and condensed milk. It was cooked hot and was especially good in the cooler months. Her favorites were pão de queijo (cheese bread) and açaí berries. In Lavras, there are many kinds of fruit. People make fresh juice and various flavors of ice creams. Kiwi ice cream was a new flavor Megan tried. She found it interesting that food was sold by weight.
Megan was amazed by the cultural differences. She had never watched the FIFA World Cup until she was in Lavras where people would go wild when their team scored. "Tons of people will go outside to celebrate. People gather to watch the game on TV; they sing and dance." Megan was also excited to experience the annual festas juninas, when people dress up to celebrate rural life with dance and food. The seasons in Brazil are reversed from the States. As Megan recalls, June was very chilly and it felt colder inside the house than outdoors; January was the summer time and it was very hot. The Brazilian lifestyle is of a slower pace than that of America. People take lunch breaks, about two hours. Lunch is the big meal of the day and people eat light at dinner. It is very easy to get around. The bus goes to every corner of the city. During the break, Megan visited Salvador, on the coast, and enjoyed the beach and swimming there. She made new friends during the trip and they traveled to Rio de Janeiro together.
This semester (Fall 2010), Megan is taking a Spanish class from Dr. Arenillas at NMU. She is planning to study in Ecuador for four and a half months during the coming semester. Megan certainly has an adventurous heart and she thinks that every college student should have some study-abroad experience. She says, "College is the best time to study overseas when you are not settled down for your career…… It's really important to see another part of the world and experience another culture. You may see other ways to do things and you may gain appreciation of your own culture."
Being fluent in Spanish and Portuguese, Megan thinks that it is essential for language learners to start with a solid foundation by reading, listening, writing, and speaking. "Learning a foreign language can be fun. You need to expose yourself to the language through various means, such as reading a book, watching a movie, and learning a song."
In her spare time, Megan enjoys running, swimming, biking, and scrapbooking. She made several scrapbooks from her family trips. "It takes some time to make the pages, but it's a great way to preserve all of my memories and experiences."