Marina Macias Sevde is a sophomore at Northern Michigan University (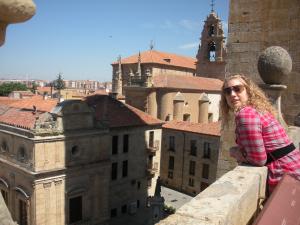 NMU) with two majors: secondary education in math and Spanish.  From May to July, 2011 Marina studied abroad at the University of Salamanca in the city of Salamanca, Spain, where she was born and lived until her family moved to the USA in the summer of 2010.
Q: Tell us a little about yourself.  Where are you from?  How do you enjoy your experience in Marquette?
I was born and raised in Salamanca, a medium-sized city in western Spain.  It is a beautiful place where people can walk to every corner of the city without using a car and enjoy the fantastic views, such as the river and cathedrals.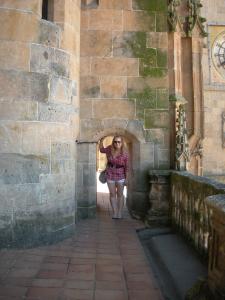 My mother Sherri, born and raised in Michigan, studied at NMU in the 1980s.  She traveled to Europe and fell in love with my father Rafael.  They got married and she lived in Spain for 20 years.  My two brothers and I were all brought up in Spain.  Since I was little, my mother tried to teach us English by speaking English to us all the time.  But we always tried to reply her in Spanish. 
When I was eight years old, I came to the States to study for a semester in elementary school.  I have visited Michigan several times before attending NMU under my mother's encouragement.  My family of five moved from Salamanca to Michigan in the summer of 2010.  Before coming up to Marquette, I haven't seen much snow.  The weather in Salamanca is very dry in all seasons.  During winter there is barely snow, maybe once a year and it only stays for a couple days.  The weather gets very hot in the summer.
Q: How did you like your studying abroad experience? How was studying & living there?
I lived with my aunt and uncle during my study an the University of Salamanca.  It was actually my first time living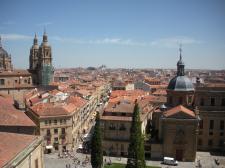 in a country away from my parents and brothers.  I felt that I was very independent, paying my own phone bills, shopping, and cooking.  I was able to hang out with my old friends in Salamanca.  Compared with them, I felt myself more mature and independent in terms of making personal decisions.  Most of my friends attend the universities at home so they live with their parents all the time until they find a job after graduation. 
I enjoy my study at NMU since August 2010.  I love Marquette because people are really nice and the campus environment is favorable.  I enjoy studying and doing a part-time job at the same time, whereas in Spain most students don't work during school at all.  Currently, I am a Spanish tutor at the Languages Lab, helping NMU students with their spoken and written Spanish language skills.
 Q: Is this studying abroad program geared towards your degree? How is it going to help?
At the University of Salamanca, I took Spanish grammar, culture, literature, film, and history of Spain.  They contributed a total of 13 credits to my major in Spanish at NMU and also to some liberal studies.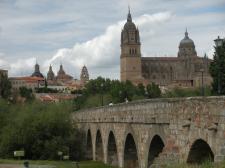 Q: How about the food? Is it very different from American food? Do you like it or not? What's your favorite dish(es)?
I miss the traditional food in Spain among which Spanish ham is my all-time favorite.  The food in America is very different from that in Spain.  There are fast food restaurants in Spain, but people don't eat as much as Americans do.  In Spain, working schedules allow people to return home and prepare both lunch and dinner.  When choosing among a variety of restaurants, most people go to local ones, where chefs cook traditional and healthy Spanish food.  Some of the traditional food are: "Tortilla de patata"—a dish made from potatoes, eggs, garlic, onion and salt, "chanfaina"—a dish made with rice, pork skin, cooked blood, garlic, onion, laurel and chili, and "Paella"—a dish of rice, peppers, and different types of meat and fish.
Q: How about clothing? Is there anything particular you want to say about the customs there?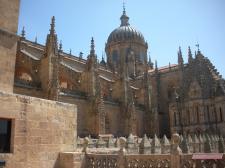 Most people in Salamanca wear perfume and dress up for school and work.  One thing that strikes me in the U.S. is that few students go to class in pajamas or slippers.  They sometimes take off their shoes and play with the feet in class.  Some Americans don't care much about clothing; it seems to be so casual.  In Spain, how one is dressed up is very important because clothing tells a lot about an individual.  A lot of people are judged by their clothing so the majority takes clothing seriously.
Q: Have you experienced any festival celebrations? Tell us more details…..
I was there for the Water Monday.  It is a tradition celebrated every year on the Monday following Easter.  This tradition started in the 16th century when the King Feli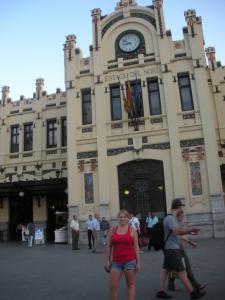 pe II ordered the prostitutes to go to the other side of the river during Lent, so that men couldn't sin during this religious period.  On Water Monday, the prostitutes come back when students and men celebrate their return by eating and drinking.  Nowadays, it is a tradition for family and friends to get together and eat "hornazo"—cooked bread with meat inside—and drink.
Q: What's the lifestyle there, with a slower or faster pace?
Life pace is relevantly slower in Salamanca than that in the U.S.  In general, morning business hours are from 10:00 a.m. to 2:00 p.m.  There is a lunch break from 2:00 p.m. to 5:00 p.m. when people enjoy their heaviest meal of the day and a nap.  Late business hours are between 5:00 p.m. and 9:00 p.m.  People usually have a very light breakfast, such as a cup of coffee and a piece of toast or a few cookies.  Dinners in Salamanca are also very light because people usually eat late around 10:00 p.m.
 Q: Do you think studying abroad an eye-opening experience? What would you say to current NMU students?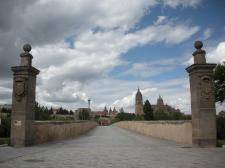 Studying abroad has definitely broadened my horizons.  I love my experiences in Salamanca and Marquette and encourage my fellow friends to study or live abroad for some time.  One of the privileges of studying abroad is to make one's own decisions and to become independent.  Being able to live in two different cultures is a treasure of my life and helps me to achieve my inner self.  The challenges and comparisons from different cultures have enriched my life and allowed me to see the real world.
Q: What suggestions do you have for beginning students in terms of studying the language Spanish?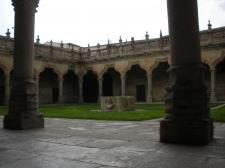 Reach out and practice Spanish as much as possible in the real world.  Visiting Spanish-speaking countries will allow you to get involved with the culture and to learn the language fast.
Q: What are your other interests/hobbies?
I love hanging out with my friends, watching movies, hiking, biking and playing outdoor sports such as soccer.