Russian Food Network
Lobio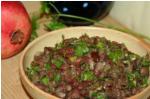 2 cans of kidney beans
1 big onion
A few cloves of garlic (depending on taste)
1 can of chopped tomatoes
1 pomegranate                                              1/2 cups of ground walnuts
1 bunch of cilantro                                          Salt and pepper
Optional: Khmeli Suneli (Traditional Geogian herbs mix of coriander, dill, basil, bay leaf, marjoram, fenugreek, parsley. You can buy it in any Russian food market or make it yourself.)
Chop the onion. Sauté it for approximately 6 to 10 minutes, move it to a small bowl and place aside.
Mix beans and tomatoes in a cooking pan and place it on the stove. Cook it for about half an hour on medium heat. Do not forget to mix it several times while cooking.
Add chopped garlic, walnuts, and onions to the pot and cook the mix for about 5 to 10 minutes. Add salt, pepper, and herbs.
Move the mix from the stove and add chopped cilantro and fresh pomegranate seeds.
Serve warm or cold.
Enjoy.
Lobio is an appetizer (zakuski) from Georgia. It is, however, a very popular dish in all parts of Russia. It is easy to cook, very filling, and full of flavor. Lobio can be served warm or cold as an appetizer, or as a side dish.