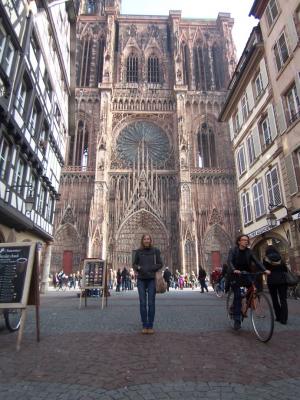 Q: Tell us a little about yourself. Where are you from? What do you study?
JB: I am from Grand Rapids, MI. I'm now a senior at Northern studying to be an Elementary teacher. My majors are Elementary Education, Integrated Sciences, and French.
Q: Where are you now? How do you like your experience abroad so far?
JB: I am living in Strasbourg, Alsace, France. It is about three hours from Paris and right on the German border. Strasbourg is a beautiful city. There is a university and it's very close to many different countries so it is kind of a cultural crossroads. I am working as an English assistant at two high schools and doing a directed study with one of NMU's French professors, Nell Kupper. So far it has been going great.
Q: How about the food? Do you like it or not? What's your favorite dish?
JB: I love French-style cuisine. There's a lot of bread: croissants, baguettes; and café au lait and expresso. My roommates love to cook, and they're native Alsatians, so I feel like I'm getting a true taste of the culture. There are a few traditional meals in Alsace that combine French and German cuisine. I love tarte flambée which is basically a pizza with really thin crust, cream, white cheese, onions, and ham. It's so good that they have it everywhere here.
Q: How about the people? Are they helpful or easy to get along? Is it easy to get involved with the community?  
JB: The people here are wonderful. I was really surprised because of all of the stereotypes there are about French people being really stuck up. I've only encountered very sympathetic and welcoming people. There was a time in my first week here when I was looking for housing and all the hotels were booked, that I thought I was going to be homeless. Luckily, I ran into a resident here that let me stay in her apartment for three nights. And I am a complete stranger! That's what I call hospitality.
Q: How about clothing? Is there anything particular you want to say about the customs there? 
JB: The French, in general, are a lot more fashionable than Americans. I walk by elementary schools and feel out-dressed by three and four year olds. I think that fashion is just more a part of the culture here and is taken more seriously. Scarves are a big deal here, too.  I'd say 75 % of women on the street are wearing some sort of scarf.
Q: What's the lifestyle there, with a slower or faster pace?
JB: I think the lifestyle is a bit slower. People take a long time to eat, whether they go out or stay home. It's not unusual to spend two or three hours at a meal, just talking most of the time. Being on time doesn't seem to matter as much, either. I've had a few meetings for which people were late and seemed to not care all that much.
Q: Is this program geared towards your degree? How is it going to help?
JB: Yes. I will be getting 8 French credits through my directed study. These will be the last 8 credits I need to obtain a French major. Living in France for several months will definitely help me prepare for that.
Q: Do you think studying abroad an eye-opening experience? What would you say to current NMU students? 
JB: I've only been here for three weeks, so it's hard to know how exactly I have been affected by the experience. But already, I have been forced outside of my comfort zone and forced to do things on my own with little outside support. I wish that studying abroad was required at NMU like it is at some universities because it is really an experience that everyone should have. Not only can you learn a lot about whatever culture you are immersed in, you can learn a lot about your own strengths and weaknesses in the process. Studying abroad can be expensive. If that is a major concern, try looking into programs like mine, where the organization pays you to teach English. I've still had a lot of expenses, but my stipend does help. And the experience is definitely worth it.