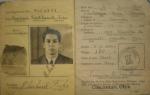 Former German-American Prisoner Eberhard Fuhr spoke at NMU on November 10, 2010.
       To view live presentation, click here.
Growing up in the United States, students learn endless information about World War II.  What is not in the history books is the FBI roundup of 11,000 German Americans incarcerated in the U.S.  Northern Michigan University welcomed Eberhard Fuhr to inform the public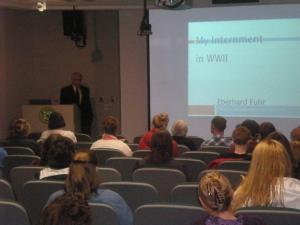 about his time in an internment camp in Texas from 1943-1947.  Eberhard, Eb for short, immigrated with his family to Ohio when he was three years old.  One semester short of high school graduation, Eb and his younger brother were both arrested and accused of conspiracy. They were taken to the Crystal City, Texas Interment Camp, where their parents were incarcerated eight months before them.  While Eb was there he could work for 10 cents an hour delivering ice on a truck and receive meals, but the whole family was denied the freedom to leave.
Japanese Americans were also rounded up during this time but were allowed to leave these camps after the war had ended in 1945.  The Germans were forced to stay until 1947.  The prisoners were never reimbursed for the time they had spent in these camps and also found it difficult to find work upon their return back into society.  Today, Eb travels around America, free of charge, informing the public of the untold history that happened in our own country.