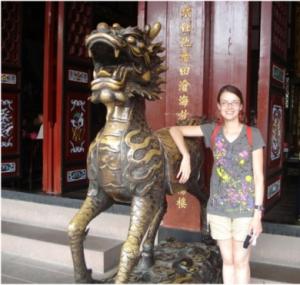 Crystal is a senior at NMU, studying towards a Bachelor of Arts in Art History with a minor in Art and Design. She took Chinese classes during 2009-2010. Now she is studying in Chengdu, Sichuan, China.
Q: Tell us a little about yourself. Where are you from? What do you study?
Crystal: I am from Gaylord, MI. I'm senior at NMU, studying towards a Bachelor of Arts in Art History with a minor in Art and Design.  Upon graduation, I would like to open an art gallery featuring artwork from around the world.
Q: Where are you now? How do you like your studying abroad experience so far? How is studying & living there?
Crystal: I am studying in Chengdu, China in Sichuan Province.  I've only ever lived in small towns and cities in the U.S. so living here where the population is 11 million is quite a difference!  I'm enjoying my study abroad so much that I really don't want to leave!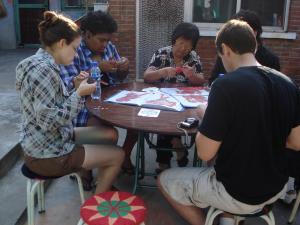 The location of the dormitory is very convenient.  It is close to restaurants, convenience stores, produce markets, the library, the classroom building, a sports field and the East gate of campus.  All my classes are a challenge, but I'm enjoying them very much.  I'm enrolled in Comprehensive Chinese, Chinese Arts & Culture, Religion in Society and Calligraphy. In this photo, my fellow AsiaLearn students and I are learning traditional Chinese paper-cutting in Bejing, near the Great Wall. It's a lot harder than it looks!
Q: What is the most interesting thing (cultural difference) you discovered in China? 
Crystal: Experiencing the cultural differences and the differences in daily life between China and U.S. is amazing.  I'm blown away that despite how backwards and even upside-down some things seem, I realize that I favor the Chinese culture and way of life over my own. 
My favorite cultural difference is eating family style at meals rather than individual plates.  Every person at the table orders one dish and everyone shares.  If I'm eating with 5-10 people at a larger restaurant, we'll sit at a table with a revolving tray in the center.  Using the revolving tray is a much more efficient way of passing dishes.
Q: How about the food? Is it very different from American food? Do you like it or not? What's your favorite dish(es)?
Crystal: Chinese food is greatly different from American food!  I love it! There are so many amazing flavors in every dish and I eat very well for very cheap.
Some popular foods don't sound appetizing at all, but are enjoyed by many.  Two that I've tried and enjoyed are chicken feet and duck neck.  Most sweet foods are mildly sweet until you eat something spicy and most snack foods are the same type of food you'd find in an entrée just a smaller portion.  A small cup of hot tea or hot water is almost always served at restaurants, as opposed to a glass of ice water.  Orange drink, rather than orange juice, is sold in stores, however freshly squeezed orange juice can be ordered at bars and some restaurants.  I was surprised to find out that some American food brands sell flavors in China that I don't believe exist in the U.S., for instance cucumber flavored Lays potato chips, cola flavored Mentos and lemongrass flavored Doublemint gum.  Nearly all meats served aren't de-boned, so it's always a good idea to chew lightly. 
Some of my favorite foods are kung pow chicken, seaweed soup, and spicy pork served with steamed buns.  I wish I could share more of my favorite dishes, but I either don't know what its called, or don't know what's in it.
Q: How about the people? Are they helpful or easy to get along? Is it easy to get involved with the community?
Crystal: Most of the people are very friendly, but very shy.  Even though I'm sure they're curious and interested in meeting foreigners, the majority of locals will just stare.  When I'm being stared at for more than 10 seconds I'll say ni hao (hello) and often get positive feedback. The best way to meet locals and make friends is to go to English Corner, where community members go to practice oral English. 
Q: How about clothing? Is there anything particular you want to say about the customs there?
Crystal: I've seen many different styles of fashion here.  I don't think I've seen an unfashionable outfit yet.  I've even seen some outfits that look like they belong to the early '90s, but the women here revive it well.  It is a shock to me to see so many women wearing high heels almost all the time.   With the amount of walking that most people do around here, I would expect more women to be wearing athletic shoes.
Q: How about housing? Is it cheaper or more expensive than American standard? Do you have all the facilities you expect to have? 
Crystal: Housing is a ton cheaper for both living off campus in an apartment and living on campus in the international student dorms.  I'm living in the dorms.  I have a furnished room, and my housing fee was about $1,200 USD.  My room came with A/C and heating, a private bathroom with a western toilet, a closet with some storage cabinets, a mini-fridge, a TV, cable internet, a thermos for water, and a clothesline.  On every floor there's a kitchen, a laundry room and building employees.  All of the building employees are very friendly and helpful.
Q: How about transportation? Can you get around the city fairly easy? How is the traffic there? Do you have the chance to get around and explore the community?
Crystal: Getting from point A to point B is very easy!  There is a wide variety of transportation to choose from.  Most American students purchased bikes; one of my friends bought a bike for less than $25 USD and most of the other international students purchased motorbikes/motorcycles.  I didn't buy either, but I can choose from walking, using a pedi-cab (also known as a rickshaw), a cab, or a bus.  
My Asialearn Coordinator who led the Bridging Cultures Program in Beijing referred to traffic in China as organized chaos.  That couldn't be more true.  At first the idea was hard to grasp, but after being here a month I knew exactly what he was talking about.  From what I've seen, it's not a police officer's duty to regulate traffic, so it's very out of control compared to traffic in the U.S.  I'm not afraid of the traffic unless I'm on foot.  I haven't seen a car and car collision or a car and bus collision, yet.  I've only seen two minor collisions in the two months I've been here. The first was a bicycle and motorcycle collision and the second was a motorcycle and a car fender-bender.  Don't worry, no one got hurt and vehicle damage was little if any!
Q: Have you experienced any festival celebrations? Tell us more details..... 
Crystal: All international students were invited by the overseas office to a dinner celebration in honor of the 61st Anniversary of the P.R.C.  It was a very social event, I had a chance to meet many other international students and the dinner was delicious.  We also got the first week of October off to celebrate.
The other holiday I celebrated was the Mid-Autumn (Moon) Festival.  Giving moon cakes as gifts is very popular.  Maybe a week or two before the festival, I started receiving moon cakes.  I don't remember all of the flavors I got, but my favorite flavor tasted somewhat like peanut butter.  I spent the Mid-Autumn Festival day with my good friend Zhang Wenwen and her family.  We ate a traditional Sichuanese dinner, I practiced Chinese and she practiced English, and she taught me how to play Mahjong.  My favorite part of the Moon Festival celebration was seeing all the lanterns in the sky at night. I have never seen anything like it.  Unfortunately, during the three-day break, everyday was cloudy and the moon wasn't visible.
The Mid-Autumn Festival is only one day long. But because everyone wants more than one day for visiting family and traveling, the community substitutes their weekend days for the day before and the day after the festival.  I found this interesting because in the U.S. days missed because of holidays are either added to the end or the beginning of the semester.  Though I had Wednesday and Friday off of school, I had Wednesday's classes on Saturday and Friday's classes on Sunday!  The week break we were given to celebrate the 61st Anniversary of the P.R.C. also required us to attend classes on the weekend to make up for lost class time. 
Q: What's the lifestyle there, with a slower or faster pace?
Crystal: Everyday life is a lot slower and more relaxed than in the U.S.  As an example, just yesterday before dinner rush I saw a cook and a server playing badminton on the sidewalk in front their restaurant. A downside to a more laid-back way of life is the international office on campus usually takes a three-hour lunch break everyday of the week.  I've also heard that many locals take a nap after lunch, which could explain why the office closes for three hours at lunch! Though life is more relaxed, it is very important to be punctual.
Q: What entertainment is available? What do you usually do during spare time?
Crystal: My favorite form of entertainment is exploring the city, hanging out with my Chinese and foreign friends or both at the same time. On Monday evenings I go to the gym for belly dancing and Tuesday evenings I attend the cardio workout class that is also very fun. On Thursday nights I like to go to Carol's by the River for salsa dancing.
I also enjoy bargain shopping in my spare time.  I never thought I'd be good at bargaining but its really easy and fun!  I've been to the Women's Market and the Lotus Wholesale Market.  The last time I was at the Wholesale Market, I bought a top and a dress.  I can see both of these going for at least $40 USD each in the U.S.  The salesperson started at 70 RMB (about $10 USD) for one and I talked her down to 50 RMB (about $7 USD) for both.
When I have a lot of free time, I like to visit tourist spots!  I've visited quite few, but I know I still have much more to see! So far, I've gone to Qingcheng Mountain and a few other temples, Tibetan street, Wang Jiang Park (also known as bamboo park), the Panda Breeding Center, the zoo, Jin Li and the Wide and Narrow Alley.  Both Jin Li and the Wide and Narrow Alley feature traditional Chinese architecture and have many teahouses, restaurants and souvenir shops.
Q: Is this studying abroad program geared towards your degree? How is it going to help?
Crystal: My study abroad will count towards my degree because I need up to the 200 level in a language to qualify for a Bachelor of Arts in Art History.  I prefer to earn a Bachelor of Arts to a Bachelor of Science and fulfilling the language requirement will allow me to do so.
Q: Do you think studying abroad is an eye-opening experience? What would you say to current NMU students?
Crystal: I feel that studying abroad is crucial for every student no matter what his or her career goals are.  There are many scholarships available, including the Benjamin A. Gilman Scholarship (that I was fortunate enough to receive), and a large variety of locations to pick from.  It is also easy to find programs and courses to count towards the degrees offered at NMU.
The willingness to uproot from the familiar and depart towards the unknown is a spectacular trait and state of mind to possess.  Accomplishing this educational transition whether for 2 weeks or 2 years will greatly benefit students in terms of personal growth and future career opportunities.