Russian Food Network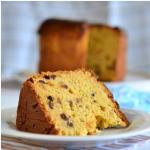 Cake-Like Kulich
The following recipe for kulich is taken directly from Darra Goldstein's A Taste of Russia, originally published as A La Russe.
An easy, no-knead loaf that will not, however, mushroom like the [traditional Kulich].
¾ cup heavy cream
1 package active dry yeast                2 tablespoons sugar
1 cup flour                                       10 tablespoons unsalted butter, at room temperature
6 tablespoons sugar                          4 egg yolks
½ teaspoon salt                                ½ teaspoon vanilla extract
2 cups flour                                       ¼ cup raisins
¼ cup sliced blanched almonds
Heat the cream to lukewarm, then stir in the yeast, the 2 tablespoons of sugar and the 1 cup of flour, mixing well. Cover the bowl and let rise in a warm place for 45 minutes to 1 hour. This is the sponge mixture.
     Cream the butter with the 6 tablespoons of sugar. Then beat in the egg yolks, salt and vanilla extract. Stir in the sponge mixture, then add enough flour to make a soft dough. Stir in the raisins and almonds. Place in a greased bowl, turning dough to grease the top, and let rise, covered, until doubled in bulk, 1½ to 2 hours.
     Punch down the dough. [Grease a tall 2½-quart mold. If no mold is available, then use a 2-pound coffee can. Grease the can and line it with brown paper, turning the edges of the paper out over the top of the can. Grease the paper so that the kulich will not stick.] Place the dough in the mold or can and let rise until it just reaches the top of the mold or can.
     Preheat the oven to 375°F. Bake the loaf for about 1 hour and 15 minutes, or until it sounds hollow when tapped. If necessary, cover the top with aluminum foil to prevent excess browning. When done, turn out of the mold and glaze with icing, as described [below].
     Yield: 1 large loaf.

1½ cups confectioners' sugar, sifted
¼ teaspoons almond extract
2 to 3 tablespoons hot water
     While loaf is baking, prepare the icing. Sift the confectioners' sugar, then stir in the almond extract and enough hot water to make a pourable icing that is not too thin.
A brief history of Kulich
     Kulich is an Easter Bread, traditionally placed in a basket and blessed by a priest after Easter Service. It is eaten between Easter and Pentecost, and usually baked in a cylindrical container to form a round loaf that is decorated with a white icing. Kulich is popular with Orthodox Christians in Russia, Belarus, Bulgaria, and Serbia.
My experience making Kulich
     I have experience making dough and cakes, so the recipe for cake-like kulich sounded rather manageable. The recipe is very simple and straight-forward. I didn't have any trouble when making this loaf, apart from the fact that I misread the label on one of my measuring spoons. I confused "tsp" with "tbsp", but luckily noticed my mistake during an early stage of the mixing process and was able to remedy the mistake.
     Also, I had no coffee can available, nor any other cylindrical tin, but instead baked the loaf in a 2-quart cast iron pan, greased with Crisco. The loaf cooked evenly, thanks to the cast iron, but was domed rather than the typical kulich shape. It was a warm brown color on the bottom, but only lightly browned on the top, as I had covered the pan with aluminum foil before placing in the oven. 1 hour and 15 minutes seemed appropriate for this loaf – it sounded hollow when tapped – though I think next time I make kulich, I will give it just a few more minutes to ensure that the center is completely done and the top a little more browned.
     One thing I purposefully omitted when making this recipe was the raisins, which I replaced with mini chocolate chips. Personally, I'm not a fan of raisins, but who doesn't love chocolate? The recipe reminded me of a coffee cake I often make, to which I often add chocolate chips for a little extra flavor and sweetness. The chocolate turned out to be a wonderful substitution. The completed loaf tasted similar to my coffee cake, but the texture was slightly different. Not as light as other cakes, the kulich is very dense, and not, I suppose one would say, "fluffy". It is sweet, though, with a great taste. What would I serve with it? Milk is my favorite thing to pair with cake and pastries, though I imagine coffee and tea would work just as well.
My Recommended Reading with which to eat Kulich
Kulich
, if anything, seems to be a comfort food. Sweet and filling, I can imagine eating it for breakfast ("It has flour and eggs!") or as an indulgent after-dinner snack. Having recently read several of Nobel Prize-winning author Ivan Bunin's short stories, I found one particularly heart-wrenching. Tanya is a well-written story of only twenty pages that tells of an affair between a poor housemaid and one of her mistress's relatives. The two young people fall in love and engage in the most intimate of actions. Though later separated for some time, Tanya, the housemaid, clings to the memory of their love and carries within in her some hope of their future together, though, in the end we find this cannot be. The story is filled with such passion and love, though is incredibly sad. Upon reaching the end of the story, I found Tanya so pitiable, though I could not help but feel for her, for love can be so powerful and wonderful, but can hurt more than anything else. If any stories needed some comfort food with it, Tanya is surely one of them.