RUSSIAN FOOD NETWORK
Project form
Please fill out the form below, print it, and turn it in, in hard copy, on the due date you selected on the signed up sheet.  The Russian Food Network Event as a follow up to your Russian cooking experience will take place on November 10th during class time.  Please duplicate your recipe and bring it in for the event.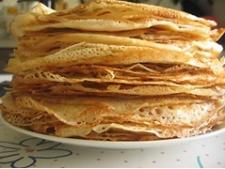 Recipe: Blini (serving size 6)
            1 package active dry yeast
            2 cups milk
            1 teaspoon sugar
            ¾ buckwheat flour
            2 tablespoons butter
            3 eggs separated
            ¼ cup sour cream
            ¾ teaspoon salt
            1 ½ cups white flour
            ½ cup heavy cream 
Dissolve the yeast in ¼ cups of milk
Stir in sugar and add 1 ¼ cups of milk
Add buck wheat flour stir briskly
            **note ( shouldn't have any lumps, cover the sponge mixture  and let rise for 1 hour)
Melt butter and mix with egg yolk, sour cream
 Add to this to mixture along with a ½ cup of milk, salt, white flour
            **Cover bowl and let rise for 2 hours (make sure you have beaten the flour well, there shouldn't be any lumps)
Beat cream until stiff
Beat eggs white until stiff but not dry then put them into the cream
            Let batter rest for 30mins more
Heat a cast-iron pan brush with butter (when butter is hot pans are ready)
Use two tablespoons of batter for each blini
Cook blini for a few min until bubbles appear on the surface then flip over
Serving:
            When eating the blini you have a choice of the following garnishes :
                        Melted butter
                        Sour cream
                        Black caviar
                        Red caviar
                        Chopped pickled herring
                        Chopped hard boiled eggs
                        Smoked salmon
                        Jelly
**note (if any is left over they may be used to make blinichiki: spread the cooked blini with any desire filling: cottage cheese, ground meat, cream mushroom, jelly. Fold around the filling like an envelope. Fry butter until browned on all sides.
A synopsis of your research on the recipe and the area where the recipe originated:
            I started my research on a website called Russiapedia to learn more about Blini, or in English it's called a pancake. In Russia the Blini's history can be traced back to the ancient era. A person would make the Blini from oat jelly. They would then warm it up on a fire and leave the jelly to fry which creates a blini. 
Your description of the experience of preparing and the tasting the recipe (any ingredients you needed to substitute, any changes you made to the recipe… does it remind you of something you tasted before?  What would you serve to accompany it? Etc.
            The blini is a very tastey meal, while making it a person should think of the time needed. My experience was an adventure while making the blini, one should note that needing multiple bowls is necessary. Also take note of the eggs being separated, and one should keep the egg whites for later use. I used all the ingredience that were in the recipe.  With the blini I also ate it with strawberries and another with jelly both were good.
Like a wine recommendation to accompany a dish, make a recommendation of a reading from Russian literature that would accompany the making or the tasting of the dish you prepared.  Perhaps the reading would suit the mood of the dish, its spiciness or its sweetness… perhaps there was a mention of one of the ingredients or the dish itself in the reading… etc.  You may select from the stories read or presented in class, or some other Russian work with which you are familiar.
            I would say the Frog Princess would be a perfect reading while eating a blini, because it is an amazing story and you're eating something sweet. While your brain is reading a cute story of a princess.
Work Cited:
            "Of Russian origin: Blini." Russiapedi. Autonomous Nonprofit Organization "TV-Novosti", 2011.  Web. 1 Oct 2011. <http://russiapedia.rt.com/of-russian-origin/bliny/>.