Events Calendar
Dala in Concert!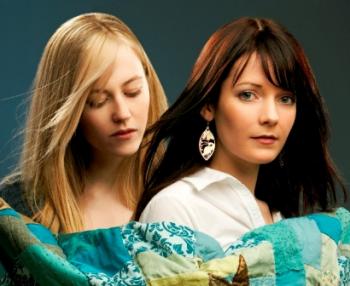 The NMU International Performing Arts Series is proud to announce a performance by the 2010 Canadian Folk Vocal Group of the Year, Dala.  This concert will be held at Forest Roberts Theatre on the campus of Northern Michigan University at 7:30p.m. on Saturday, March 12.  Tickets can be purchased at the Forest Roberts Theatre box office, NMU Bookstore, Superior Dome or the Vista Theatre in Negaunee.
On their Compass Records debut, Everyone Is Someone, Dala's pitch-perfect harmonies soar on a set of acoustic folk-pop originals. Although still in their 20s, Amanda Walther and Sheila Carabine have recorded four albums, toured extensively throughout their native Canada and have appeared on prestigious US festivals including the Newport Folk Festival and the New Orleans Jazz and Heritage Festival.
High-school friends, and relative newcomers to the US music scene, Walther, 28, and Carabine, 26, have recorded three prior albums, toured across Canada six times (including seven appearances at Toronto's legendary Massey Hall) and have appeared on countless festivals in their native land.
In the US they have become a favorite of National Public Radio's Folk Alley, earning a spot on the Top 10 of 2009 list for their song "Horses." Folk Alley is far from the only outlet to be impressed by Dala's catchy, insightful songs; in 2009, they were the only Canadian act invited play at the 50th anniversary of the Newport Folk Festival, and have also appeared at Pete Seeger's Clearwater Festival, on Mountain Stage, World Café Live, The New Orleans Jazz Festival, The Edmonton Folk Festival, California's Strawberry Festival and Mariposa.
Regarding their appearance at the prestigious Falcon Ridge Folk Festival, coverlaydown.com wrote:  "By all accounts, the Canadian duo is one of the biggest rising stars on the pop-folk circuit...If you like soaring and sweet two-girl harmonies – and who doesn't, really – then let this act be the tipping point that gets you on the road this summer."
In 2010 they also made their UK debut, appearing at Bedford's Rhythm Festival alongside Donovan, the Wailers, and Billy Bragg. And in the summer of 2010, Dala's PBS special "Girls From The North Country" was broadcast across North America.  ("Girls from the North Country" will be released on DVD and CD by Compass Records in 2011.)
Now, joining forces with Nashville-based Compass Records, Dala is ready to achieve the same success in the United States as they have in Canada.  Even though their first three records were self-released in the States with no retail presence, the buzz from Canada has begun to spread, and with good reason. Drawing upon influences like The Beatles, Joni Mitchell, Neil Young and Bob Dylan, Dala write songs that are as hook-laden as they are introspective. Walther's ethereal soprano voice blends with Carabine's velvety alto, creating the lush harmonies that have become their trademark. The duo's live shows have won them fans across borders; every show is a little different, Dala says, each one encompassing acoustic guitar, piano, and ukulele to accompany the duo's smooth vocal stylings.
Event Contact
Daniel Truckey
Phone: 906-227-1219
Website:
Click to Visit
Cost
$6/$15/$20 at door
Similar Events
Events Calendar
Most Popular Events
Monday, August 28, 2017
Fall Fest 11:00 am
Wednesday, August 23, 2017
2017 Fall Convocation 4:00 pm
Monday, August 21, 2017
Thursday, September 07, 2017
Ojibwa Casino-Information Session 11:00 am
Friday, October 06, 2017
Family Weekend All Day