Staying Wild
Lean More
Campus Information
Staying Connected
Editors Note
Thank you for your patience as we did some behind the scenes work to update your "What's New NMU?" e-newsletter.  We've made a few changes that we hope you enjoy.  In this and future editions of "What's New" we'll be featuring NMU alumni who are accomplishing amazing things across the globe.  We know there is no shortage of these stories, as 'cats of all ages show the world how to Be Wild and Stay Wild.  We hope you'll continue to share your successes and those of your fellow alumni. 
The e-newsletter will be arriving in your in-box on a bi-weekly basis, keeping you connected to your alma mater and your fellow Wildcats.  Please, send us your thoughts and comments!  All feedback can be sent to alumni@nmu.edu.  There are several other exciting changes coming from the NMU Alumni Association in the near future!  Stay tuned…and stay connected!
Campus Conditions
As you well know, this month (and any month!) it could be snowing on campus or it could be beach weather.  Check out the latest, and ever-changing weather conditions in Marquette here:
NOAA
Keep an eye on our campus webcams to see in real-time what's happening across NMU!

Top of Page
Staying Wild
 
'99 Grad Explores the Freezing Waters of the Antarctic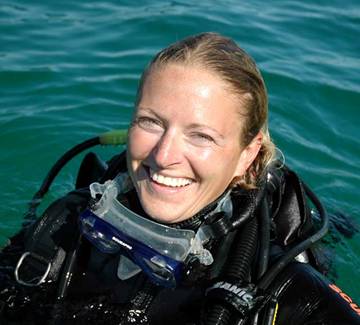 A leopard seal glides gracefully through freezing water.  Camouflaged fish stare out from beneath rocks.  The tentacles of a pale sea anemone wave in the cold current. Here, in the oceans of the Antarctic, the water temperature can get as low as 26 degrees Fahrenheit.  This is Lisa Trotter's underwater world; a far cry from her native Buffalo, New York and a frigid challenge even to someone who spent their undergraduate college years in the Upper Peninsula.
Lisa graduated summa cum laude from NMU in 1999 with a degree in health education and human biology. She began her polar career in 2000, working in the gift shop on the National Geographic Endeavour (then called the Caledonian Star).
Today, she is an explorer, author and the first person to be trained to dive in the Antarctic. From Svalbard in northern Norway to the Ross Sea aboard a Russian icebreaker, Lisa has spent a vast amount of time in the Polar Regions. She has worked as a naturalist, undersea specialist, dive master, assistant expedition leader and expedition leader aboard National Geographic cruise ships in the Lindblad Expedition fleet. She has logged hundreds of hours diving in Antarctica, explored many sites previously undived and uncharted and has provided invaluable information and observations to scientists across the globe.
Lisa's book, Below Freezing: the Antarctic Dive Guide is currently in its second edition. It is the first and only guide to diving in Antarctica and includes full-color photos of Antarctic marine life along with sections on underwater photography and the history of Antarctic diving.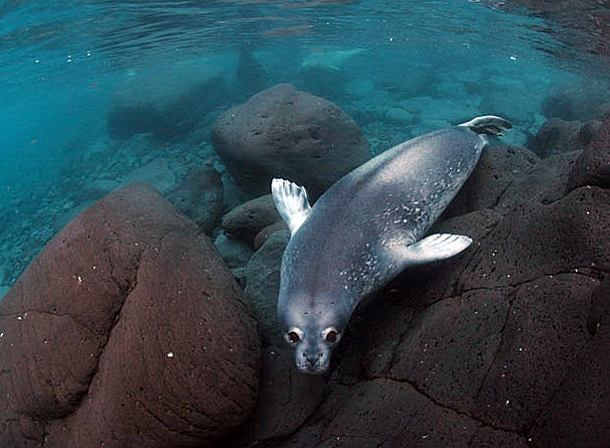 Top of Page
Learn more about the work of Wildcat, Lisa Trotter
Watch Lisa's video on You Tube
Learn more about National Geographic expeditions to Antarctica
Buy: Lisa's Book
Read the article on Lisa in The Antarctic Sun, the newsletter of the U.S. Antarctic Program
Education College of Professional Studies
Top of Page
Commencement Speaker Announced
Ada Deer, former assistant secretary for Indian affairs with the U.S. Department of the Interior, will be the keynote speaker at NMU's May 5 commencement ceremony. She will also receive an honorary Doctor of Humane Letters degree from the Sociology and Social Work department.
Deer's tenure as assistant secretary spanned from 1993-97. She was the first woman to hold the position and she strove to ensure tribal sovereignty, enforce the government-to-government relationship and promote tribal economic development and self-sufficiency. She ended her career at the University of Wisconsin-Madison, where she retired in 2007 as director of the American Indian studies program and distinguished lecturer in the School of Social Work.
Born and raised on the Menominee Indian Reservation in Shawano, Wis., Deer has a number of "firsts" to her credit. She was the first American Indian woman to graduate from UW-Madison, run for statewide office (Wisconsin's Secretary of State) and serve as chair of her tribe. She also was the first American Indian—male or female—to graduate from the Columbia University School of Social Work and win a partisan political primary for a federal office (Wisconsin's 2nd Congressional District)
The America One/B2 Networks will be streaming the NMU commencement ceremony live via the Internet, free of charge. The ceremony will be streamed lived here.
Become a Docent at the NMU DeVos Art Museum
Call for Volunteer Tour Guides / Docents!
Do you like working with children and enjoy art? The DeVos Art Museum is currently seeking volunteers to give tours to local school children! It's a fun, low commitment volunteer position that makes a lasting impact on our local youth.
Anyone can volunteer!
Interested? Please join us for a docent interest meeting on Tuesday, May 8 at 10:00am at the museum for more information and a chance to ask questions. 
Please RSVP to Melissa Matuscak, DeVos Art Museum director, at mmatusca@nmu.edu or 227-1481.
Top of Page
Staying Connected
Thanks to all of you who have stopped by the Alumni office to visit while you're on campus.  Whenever you're in town, please drop by 603 Cohodas Hall to say hello!  (You don't have to be visiting - for those of you who live in Marquette, we want to see you too!  Please stop in to see us.)  If you can't get to campus but you're off exploring the world, be sure to send us a photo of you wearing your favorite Wildcat gear so we can share it with your fellow alumni.
Mr. Muraino Ogunsanya '79 and his daughter, Ayokunnumi stopped by the Alumni office the other day.They were on a campus visit for Ayokunnumi all the way from Lagos, Nigeria.
Having nice time in Mission Texas, Rio Grande Valley.  Have enjoyed 3 months of warm weather
Winter Texans
Richard '62  & Dorothy Nobert  '65
Maureen Tippen '78, Anna Kerr '09 and Ann Dougherty Graziotti '78
Maureen and Ann meet once a year in the Dominican Republic to work as members of a medical mission team. Ann is a nurse practitioner and works in Miami. Maureen a Clinical Assistant Professor at University of Michigan-Flint. Anna (Maureen's daughter) is a park ranger in Yosemite and had the opportunity to volunteer as their Spanish translator.
Alumni Reunions
As summer approaches the NMU Alumni Association is a great place to get all your alumni reunion information. Whether it is a student group, greek society or a group of friends the Alumni Association is a great place to get started. Check our online listing of upcoming reunions at http://www.nmu.edu/alumniassociation/node/40. If your group is planning a reunion, be sure to get in touch!
TKE Reunion
July, 27-29, 2012
Marquette, MI
Contact:

Dennis Badaczewski
dbadacze@gmail.com
906-362-6313
Gamma Delta Chapter of Phi Kappa Tau
August 4, 2012
Indian River, MI
Contact:

John Kukulka
kook@racc2000.com

Bill Clancy
clancy6000@yahoo.com
 
Top of Page
Please send us your updates
questions and comments to:
alumni@nmu.edu